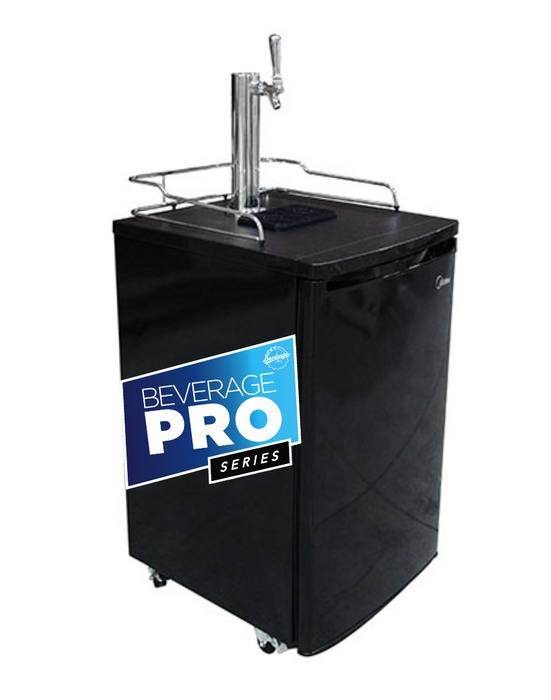 1 Tap (304SS) Black Kegerator with Premium Tapping Kit & Tank
Save

Liquid error (snippets/product-badge line 32): Computation results in '-Infinity'

%
The Midea 4.9 cu ft Draught Beer Kegerator lets you serve your favorite brews and other "On Tap" beverages in the comfort of your favorite room of the house. Make a statement in your home theater, game room or man cave with the Midea 4.9 cu ft Draught Beer Kegerator.
This version of the Midea 4.9 cu ft Draught Beer Kegerator has been upgraded to include BEVERAGE PRO Draught Beer system components approved for use in commercial food service establishments such as bars, restaurants and stadiums. Guarantee the quality of your pour with our BEVERAGE PRO quality dispense system components. 
Stainless Steel Faucets and Tower 
Part of what makes Beverage Time system components BEVERAGE PRO grade is the high quality of 304SS used to fabricate our faucets, shanks, keg couplers, towers and fittings. There are many grades of beverage dispense components in the market, why not choose the quality the Pro's use? Choose BEVERAGE PRO 304SS faucets and towers as these quality products have been proven time and time again to stand up to the demands of the busiest food service operations. Your investment in the best the industry has to offer will provide a great return on investment. Not only will the product work as you intend it to but it will provide the purity and longevity you deserve. Our goal is simple, make the beverage flow perfectly and have it taste the way the Brewmaster intended it to!  
Selecting commercial grade system components like 304SS faucets, keg couplers, shanks, fittings and towers ensures you will be tasting the highest quality beverage possible. With our BEVERAGE PRO exceptional quality, you will never have to worry about metallic flavor creeping into your pint from lead filled brass components or from those flaking or peeling nickel plated brass fittings. 
Brewery NSF Approved Flexible Total Barrier Tubing 
NSF certified, clear flexible total barrier tubing from CBS has no PVC, is non toxic and is the BEVERAGE PRO's choice for the transfer of draught beer and other beverage applications, like wine, soft drinks, tea's, coffee and spirits. This flexible barrier tubing has a special durometer TPE construction which provides exceptional kink resistance and taste protection properties. 
Why is this tubing the choice of the BEVERAGE PRO? That's an easy one, it's simply a far superior product to traditional clear vinyl because it does not contain PVC, phthalates, or other chemicals listed by California's prop 65. This awesome product will eliminate plastic odor and taste as well.  
Check out this tubing's wide range of service temperature: -40F to 140F 
This Black Kegerator comes complete with our BEVERAGE PRO certified Premium Tapping Kit and Tank which features a 304SS "D" System Keg Coupler, polished 304SS Tower fitted with a 304SS shank and 304SS faucet. Catch the overflow and any accidental drips with the BEVERAGE PRO 304SS removable Drip Tray. Your "On Tap" beverage will be transferred from the tank or keg to the faucet through the BEVERAGE PRO certified 3/16" ID x 7/16" OD Flexible Total Barrier Tubing, fitted with a 304SS Beer Nut, 304SS Tailpiece and Neoprene Beer Nut Washer. The Premium Tapping Kit also includes our Premium Metal tank mount Co2 Primary Regulator and an empty 5lb Aluminum Co2 Tank which can be filled by your local food service grade Co2 supplier. 
 Features: 
Perfect for your home, office or clubhouse

 

Polished 304SS Beer Tower with 304SS Faucet & Flexible Barrier Tubing

 

Complete with BEVERAGE PRO Premium Tapping Kit and Co2 Tank

 

BEVERAGE PRO

 304SS "D" System Keg Coupler 

 

Top Mounted Glass Rail

 

BEVERAGE PRO

 

Removable 304SS Drip Tray

 

4 Swivel Casters with Brakes
 Options: 
 Specifications: 
20" Wide

 

26" Deep 

 

33-1/2" High

with glass rail 36-3/4" High 

 

with tower 45-1/2" High

 
Capacity 4.9 cu ft

 

120V-60Hz

 

1.1 Amps

 

Weighs 70lbs

 
 What Fits: 
5 gal Pin Lock Corny Keg - 2 each

 

5 gal Ball Lock Corny Keg - 2 each

 

1/6 barrel - 2 each

 

1/4 barrel - 1 each

 

1/2 barrel - 1 each